DR. GREG GARNER
*To view Dr. Garner's full CV, click here

EXPERIENCE Private Practice since June 2000
EDUCATION Doctor of Chiropractic
New York Chiropractic College, Seneca Falls, New York
Graduated: December, 1999
Member Phi Chi Omega Chiropractic Honor Society

Consecutively named to New York Chiropractic College Dean's List

Candidate for Frank P. DeGiamcomo Technique Award

Candidate for Distinguished Service in Pre-Clinical Sciences Award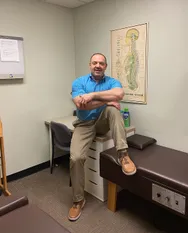 Bachelor of Arts
State University of New York at Buffalo, Amherst, New York 1996
Concentration in Medical Anthropology
Graduated with Cum Laude Academic Excellence Award

Consecutively named to University at Buffalo Dean's List

Member University Anthropology and Archeology Club

Teaching Assistant in University Anthropology Department 1995 – 1996
CONTINUING DEVELOPMENT
Myofascial Trigger Point and Pain Management Seminar
A hands-on workshop including moderate group discussion focusing on the diagnosis and treatment of myofascial pain syndromes.
Active Release Techniques
A hands-on workshop in the soft tissue management system for the upper extremity taught by Dr. P. Michael Leahy.  The seminar included thorough comprehension of the principals and methods of Active Release Techniques along with each muscles symptom pattern and treatment protocol.
The Shoulder: Examination, Diagnosis, and Principals of Rehabilitation
A workshop on the anatomy, stability issues, impingement syndromes, physical examination and clinical symptoms of specific shoulder conditions given by Dr. Dale Buchberger.
Cox Distraction Techniques
Program included adjusting procedures, low back pain and flexion-distraction research, clinical validation information, and practitioner preference in many cases of patient low back pain etiologies.
LICENSES AND CERTIFICATIONS
National Board of Chiropractic Examiners
Parts I, II, III, IV, and Physiotherapy completed.
CPR and Emergency Cardiac Care Provider
Certified by American Heart Association
AFFILIATIONS
American Chiropractic Association

New York State Chiropractic Association